50 Cent, pictured above with ex-girlfriend Shaniqua Tompkins in undated photo.
Curtis Jackson, a.k.a. 50 Cent, won a small court victory against the mother of his 10-year old son, Marquis, when judge Carol Edmead ruled that the rapper's lawyer Brett Kimmel could continue representing him in court.
Shaniqua Tompkins had attempted to get Mr. Kimmel removed due to a conflict of interest (she consulted with him three years ago while searching for a lawyer to represent her in a child support battle with Mr. Jackson).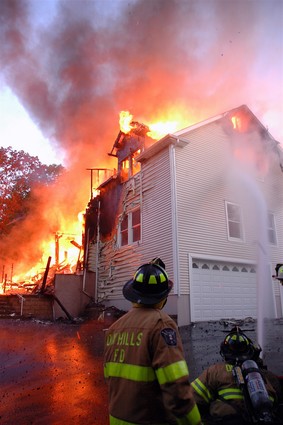 Firefighters battle to save the home of Shaniqua Tompkins (owned by 50 Cent) during a quick-spreading fired in May '08.
The two are squaring off in court over a million-dollar home in Dix Hills, Long Island, owned by Mr. Jackson that Ms. Tompkins was evicted from in April. The house mysteriously burned to the ground in May (see photo below).
Mr. Kimmel was successful in arguing that he had no attorney-client relationship with Ms. Tompkins.
Mr. Jackson's current court case stems from a judicial decision to freeze insurance payment on the Dix Hills house. Investigators are still looking into the cause of the blaze and have called it suspicious.