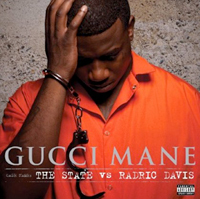 Gucci Mane, seen above on the cover of his soon-to-be released album, The State vs. Radric Davis, was sentenced on Thursday to one year in prison for violating his probation.
Rapper Gucci Mane, born Radric Davis, is waking up in a concrete cell this morning after he was thrown back in prison for violating his probation, an infraction that will cost him at least 6 months of freedom.
The Fulton County Sheriff's office in Atlanta confirmed reports that Davis was taken into custody on Thursday (Nov. 12) but would not disclose the details of the violation. He was ordered to serve a year in prison. With good behavior he could be released as early as May of 2010.
Davis' latest album titled, The State Vs. Radric Davis, was to be released on December 8, 2009. It's not clear if that will change due to his incarceration.