An Illinois judge has set aside a default judgment against R. Kelly in a civil case that alleges the singer had a sexual relationship with the plaintive when she was a minor. Judge Moira Johnson had ruled in favor of the plaintive just two weeks prior.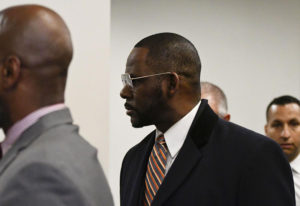 Heather Williams filed her lawsuit against Kelly in February, he was served with a notice of the lawsuit while in jail awaiting bail following following criminal charges of sexually abusing Williams and two other women.
Kelly was to appear in in court to answer to the civil complaint, but was a no-show. As a result, Judge Johnson ruled against Kelly by default.
Lawyers for Kelly asked that the default judgement be vacated because Kelly was unaware of the court date since he is illiterate and was not able to read the documents he was served with.
On Wednesday, May 8, Judge Johnson agreed, reversing her original order and reinstating the lawsuit.