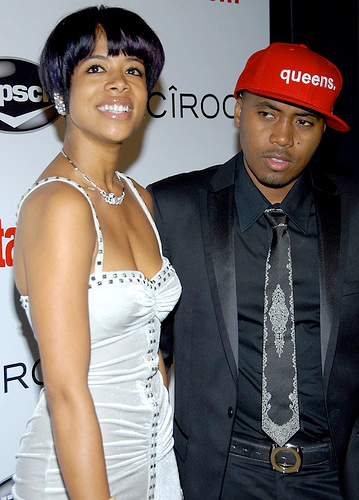 Kelis and Nas pose on the press line at the Entertainment Weekly Island Def Jam Grammy party in Los AngelesIn (Feb. 10, 2008). AP Photo/Dan Steinberg.
Are Nas and Kelis having second thoughts about their pending divorce?
That's some are speculating after the couple were seen together at the Marquee club in New York on Monday (Sept. 14). According to sources at the event, the couple was there to celebrate Nas' birthday and were reportedly caught kisses and hugging in the club. Accord to one unnamed source said: "Nas and Kelis were celebrating his birthday with some friends and you couldn't tell they were divorcing to look at them. They seemed very intimate and were kissing and hugging and even left together." There's been no official word of reconciliation
For those not in the know, Nas and his may-be soon-to-be ex-wife have been in boiled in a very public and at times bitter divorce battle since Kelis filed papers back in April, with a judge granting Kelis over $30,000 in support shortly after she gave birth to the couple's first child last month.
The two are due to return to court later this month.