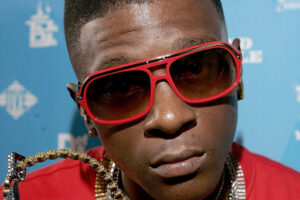 Lil Boosie struck a deal on Tuesday with prosecutors in his marijuana possession case that will have the Louisiana rapper serving 2 years of a 10-year jail term.
The plea agreement comes a week before the case was to go to trial, in which he had faced a 25-year prison sentence if a jury found him guilty. The case dates back to October 2008 when East Baton Rouge sheriff's deputies arrested Lil Boosie after they found numerous drugs, including a bag of marijuana, and a gun in a car driven by the rapper. He was charged with third-offense possession of marijuana (up to 20 years), and possession of a firearm with a controlled dangerous substance (mandatory minimum 5 years).
Along with the 2-year sentence, the plea also calls for 2 to 5 years of supervised probation, after which the gun charge will be dropped.
Lil Boosie will officially be sentenced on November 9. Judge Chip Moore urged Lil Boosie to stay out of trouble until the sentencing, warning the consequences would be harsh, "When I do catch up with you, I can assure you I will not abide by this agreement of 10 years. It will be much more,"
Lil Boosie's latest album, Superbad: The Return of Boosie Bad Azz, is expected to land in Billboard's top ten albums chart when it debuts next week.