An arrest warrant was recently issued for former hip-hop heavyweight Suge Knight after he failed to show up at a court hearing last week to answer to charges of driving with a suspended license, steaming from a 2009 traffic stop.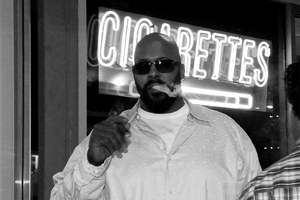 Suge Knight stands in front of a cigarette shop on the Sunset Strip in West Hollywood (July 11, 2009).Photo: Erik Oginski.
Knight was arrested in May and charged with assault with a firearm after allegedly pulling a gun on another man during an altercation; those charges have since been dropped.
Knight, along with then partner Dr. Dre, founded powerhouse music label Death Row Records in the mid-90s. At it's most prominent Death Row's roster teemed with some of the music genre's most legendary artists, including the late Tupac Shakur, Snoop Dogg and Dr. Dre.