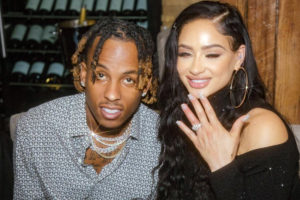 Something must be in the water. Fresh off Nick Young's surprise marriage proposal on Christmas day and the revelation that Jodi Turner-Smith secretly married secret boyfriend Joshua Jackson, Rich the Kid decided he didn't want to be left out of the fun; took to bended knee on Thursday, Dec. 26 and proposed to girlfriend, Tori Brixx.
The couple share a beautiful baby boy together and celebrated the holidays surrounded by family and friends.
Rich, born Dimitri Leslie Roger, posted a video to his Instagram of the big moment, captioning it, "You deserve the world & that's what I'm going to give you!!! I love you more than life itself!! Who coming to our wedding ??? @pristinejewelers."
About a week before the engagement, fans got a glimpse of the couple's personal life as an argument caught on live video ended with Rich shoving his now- fiancée. Rich later posted an apology, "My life is everything with you & nothing without, I love you more than anything on earth I want to sincerely apologize for my behavior this weekend I was either drunk or high but that still does not excuse it. I would never disrespect my wife in any way or any day I can only treat with utmost respect for being the women Of my dreams & the best mother to our child."
Best of luck to the couple.