The airplane carrying Shyne back to his homeland touched down in Belize on Thursday afternoon (Oct. 29).
The former Bad Boys rapper, who recently completed a 10-year prison sentence for shooting into a crowd of partygoers at Club New York in 1999, was officially deported and escorted by a U.S. Marshall from a New York jail cell to his native Belize after efforts by his attorney to keep him in the country failed.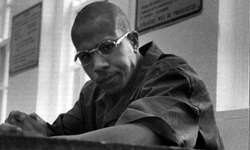 Rapper Shyne deported back to his native Belize after Wednesday's immigration ruling.
Upon his arrival Shyne, who now goes by the name Moses Michael Leviy — he legally changed his name from Jamal Michael Barrow after converting to Judaism while in prison, was greeted by family members including his mother Imeon Myvett and his Dean Barrow, Prime Minister of Belize.
Shyne's uncle Michael Finnegan, Belize's current Minister of Housing spoke on his behalf and asked the local media to give him some time and privacy to ajust to his new circumstance as his lawyer continues to fight the deportation ruling here in the U.S., "Shyne is home. He wants to say how happy he is to be home and to be a free man.
"He would love to have a conversation with the media, but because he was legally advised by Professor Ogletree, he must not speak to the media because he doesn't want to prejudice his situation with the US government or with the Belize government. So he asked me to ask you that he does not want to disrespect you the media, but please to understand what is going on.
"He needs some privacy, he needs not to be around anybody, he needs just to sit down in isolation and contemplate his life. I think that we need to respect that. If you notice, he has lost an extreme amount of weight."
In March 2001, at the age of 22, Shyne was convicted on two counts of assault, reckless endangerment and gun possession for the December 27, 1999 shooting in Club New York. "I never meant to hurt nobody — I was afraid for my life," Shyne told Judge Charles Solomon at his June 2001 sentencing. He also admitted to firing a gun in the club, but insisted that he was acting in self-defense and that another gunman's bullets injured the two victims.