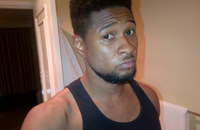 A court hearing is set for today (Nov. 30) after
Tameka Foster-Raymond
, ex-wife of singer
Usher
, petitioned an Atlanta, GA court to amend the custody agreement established during their divorce in order to eliminate Usher's visitation right with his two children.
According to TMZ, Tameka's court action is in response to what she says is Usher's failure to uphold his court-ordered obligations. Among them Tameka claims Usher failed to, get her permission to travel outside the state with the kids and approval before hiring nannies; give her first shot to watch the kids when he's away for more than 8 hours; allow her to take custody of the kids for 2-weeks in the summer of 2011 and during Christmas break 2010.
In addition to getting Usher's custody rights taken away, Tameka is hoping the court will help her get some legal satisfaction after, as she claims, Usher closed her Saks 5th Avenue credit card after originally promising he would not. In her court filings she claims that because of his actions she can no longer take advantage of the "special benefits" the card offers. Also in the court docs, Tameka states that Usher promised to pay $5k per month so Tameka could hire her own nanny for the kids, but he hasn't paid in months, and now owes $34,000 worth of payments.
Finally, Tameka claims Usher's income has risen substantially since they got divorced and asserts she should be given more money for child support.