Abimbola "Abel" Osundairo became a Chicago Golden Gloves champion on Friday, April 12, after defeating his opponent by technical knockout in the first round of the senior novice division at Cicero Stadium.
Tonight at the Chicago Golden Gloves Finals — Abimbola "Abel" Osundairo overpowered his opponent from the start.
After the match he told me he's just boxing for fun, training 5 days a week.
Tonight was all about his win; he didn't want to discuss anything else. pic.twitter.com/BqnS9JItE9

— (@WashNews) April 13, 2019
The Golden Gloves is a much sought after amateur title. However, Osundairo's win is overshadowed by the attention of the Smollett assault investigation continues to receive.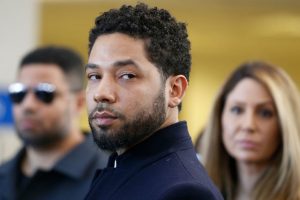 On Tuesday, April 9, the city of Chicago filed a lawsuit against Jussie Smollett seeking $130,106 to cover the cost of the police investigation into the alleged against him this past January
Police claim the "Empire" actor staged the homophobic and racist attack on himself in January, and paid Osundairo, and his brother Ola, $3,500 to play the role of his attackers.
Police charged Smollett with numerous felonies in the alleged hoax, but Chicago district office declined to prosecute.