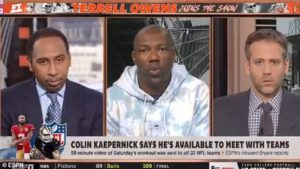 Stephen A Smith has taken a lot of heat lately on his stance on Colin Kaepernick's recent workout for the NFL.
Kaepernick, who has not played in the NFL in three years, was allowed to have a workout in front of NFL owners but only on their terms which didn't sit well with the former NFL star.
So, he decided to set up his own workout as eight NFL owners watched. But some, like Stephen A, felt like Kaepernick missed his opportunity by not following the NFL's rules.
He doesn't want to play. pic.twitter.com/ZuSI1IVW9r

— Stephen A Smith (@stephenasmith) November 17, 2019
On a video rant posted to Twitter after the workout Smith said that "Colin Kaepernick doesn't want to play football." His comments did not sit well with several people including the Carolina Panthers Eric Reid who called Smith out on Twitter the other day accusing Smith was kissing up to the NFL by taking their side in this matter.
.@stephenasmith Tap dancing for the NFL like ⬇️. Damn straight Colin wants to control the narrative! He supposed to trust the organization that blackballed him and has done absolutely nothing in good faith??? Born on Tuesday, just not last Tuesday. https://t.co/EKztmcrDbu pic.twitter.com/gz0xnDe10e

— Eric Reid (@E_Reid35) November 17, 2019
Smith was quick to respond, posting that Reid had no right to question him when he continues to take a check from the NFL, the very people he criticizes. Reid has been one of the few current NFL players that have called out the NFL on their mistreatment of Kaepernick.
And Thursday, former NFL wide receiver and NFL Hall of Famer Terrell Owens joined the fray, calling Smith out on Smith's and Max Kellerman's show First Take.
Owens said, "I'm in the streets, Max almost seems blacker than you Stephen A."
Terrell Owens to Stephen A Smith "I'm in the streets, Max almost seems blacker than you Stephen A" pic.twitter.com/CuOTDKoAFB

— gifdsports (@gifdsports) November 21, 2019
Kellerman, who had also been critical of Smith this week, seemed shocked by the comment and Smith was taken aback by it as well.
After Owens cleary embarrassed Smith, Smith told him he had "crossed the line."
But Owens wouldn't back down even after Smith continued to call him out about his comments and said that he offered Kaepernick a spot on his show which he turned down.