"Thats why when I drop loads in hoes, they dont knw my name…this is why…" *A comment left by...
Kelis (above) hit the jackpot today as Judge awards her huge divorce settlement. Signer Kelis is in recovery today...
Nas Kelis, the estranged wife of rapper Nas, went into labor this morning and gave birth to the couple's...
Kelis and Nas at the 2006 B.E.T. Awards The divorce fight between Nas and Kelis is just starting. In...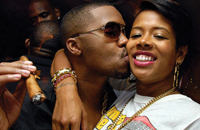 Signer Kelis, the estranged wife of rapper Nas, took to the web yesterday, giving fans a brief glimpse in...
Kelis Roger-Jones has filed divorce paper against her husband of 4 years, rapper Nas, real name Nasir bin Olu...
Nas and the Make-A-Wish Foundation got together yesterday (Mar. 5) to help 13-year-old Darnell Hicks realize his dream of...
Nas joined MoveOn.org and ColorOfChange.org at the midtown Manhattan headquarters of cable news station, Fox News, yesterday to protest...
Nas put his two cents in yesterday about this past weekend's controversy regarding
What happened to the music you just couldn't skim thru..