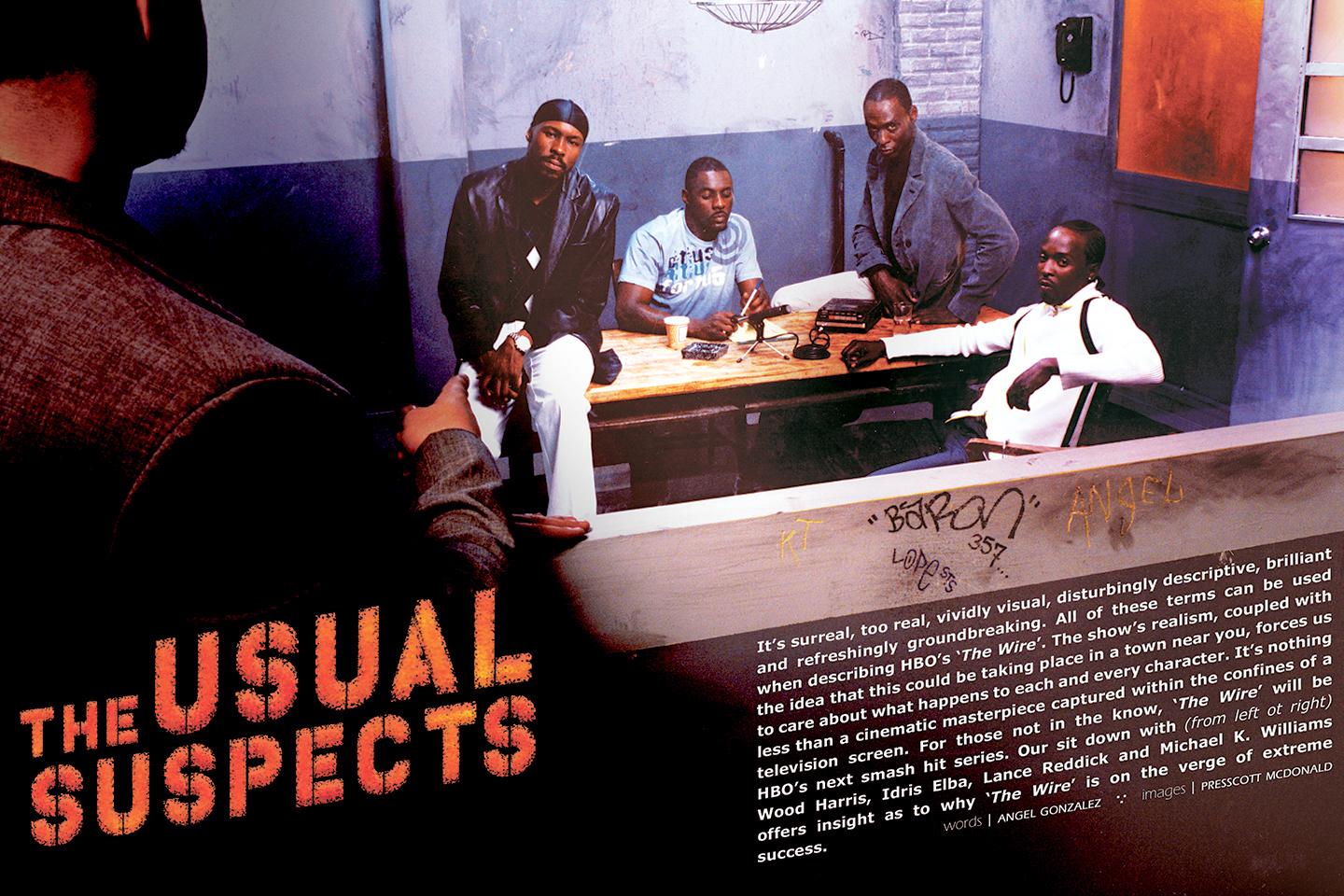 shot by Presscott McDonald | set design by Composition Workshop
It's surreal, too real, vividly visual, disturbingly descriptive, brilliant and refreshingly groundbreaking. All of these terms can be used when describing HBO's new show The Wire, which premiered its second season on Sunday June 1st. The show's realism, coupled with the idea that this could be taking place in a town near you, forces us to care about what happens to each and every character. It's nothing less than a cinematic masterpiece captured within the confines of a television screen. And after going to the premiere I have to say for those not in the know, The Wire will be HBO's next smash hit series. Our sit down with Lance Reddick, Idris Elba, Michael K. Williams and Wood Harris offer insight as to why The Wire is on the verge of extreme
"Dope on the damn table."
—Lieutenant Cedric Daniels a.k.a. Lance Reddick
Lance Reddick's portrayal of the police Lieutenant with the checkered past and precarious future is simply superb; a commanding presence that flies off the screen.
In recent years he's appeared in several television productions including OZ, Keep The Faith, Baby and Witness To The Mob. His film credits include I Dreamed of Africa and The Siege.
Lance, who originally auditioned for the role of Bubbles (the part went to Andre Royo), due to his previous work on The Corner, was wary about his chances with the Lt. Cedric Daniels role, "I had went to several auditions and they informed me they'd call. Originally they had past [on me], but a few weeks later I get a call from my agent to read for them again. A few short weeks after that reading I was cast as Lieutenant Daniels."
Lieutenant Daniels is stoic and by the book, with a shaded past he is trying to escape. When Lance speaks of his experience playing the rigid police lieutenant he comments, "It's always been a dream of mine to play a character like this". The internal conflict, to fight for what you believe in or run to the wayside, plagues Lieutenant Daniels thoughts seemingly throughout the series. He has done his dirt in the past to achieve the level of affluence he enjoys; yet deep inside he is an honest to goodness man, who sees what is right and what is ultimately wrong.
At the close of season one Lt. Daniels was under pressure to be a company man and let the Barksdale case go, he declined and pursued this vendetta until its conclusion. This resulted in him missing his opportunity to achieve rank of major and wreaks havoc on his faith in the system. Season two finds him buried under evidence in the basement, which is a far cry from the true potential he has as a leader of men. Lance's attempt to make this felt is simply ingenious. Every thought of frustration, every shred of pride and every scrap of honor he gives his character makes you understand his plight. This role will definitely shed light on the depth of talent Lance Reddick has and will spell success down the road for him.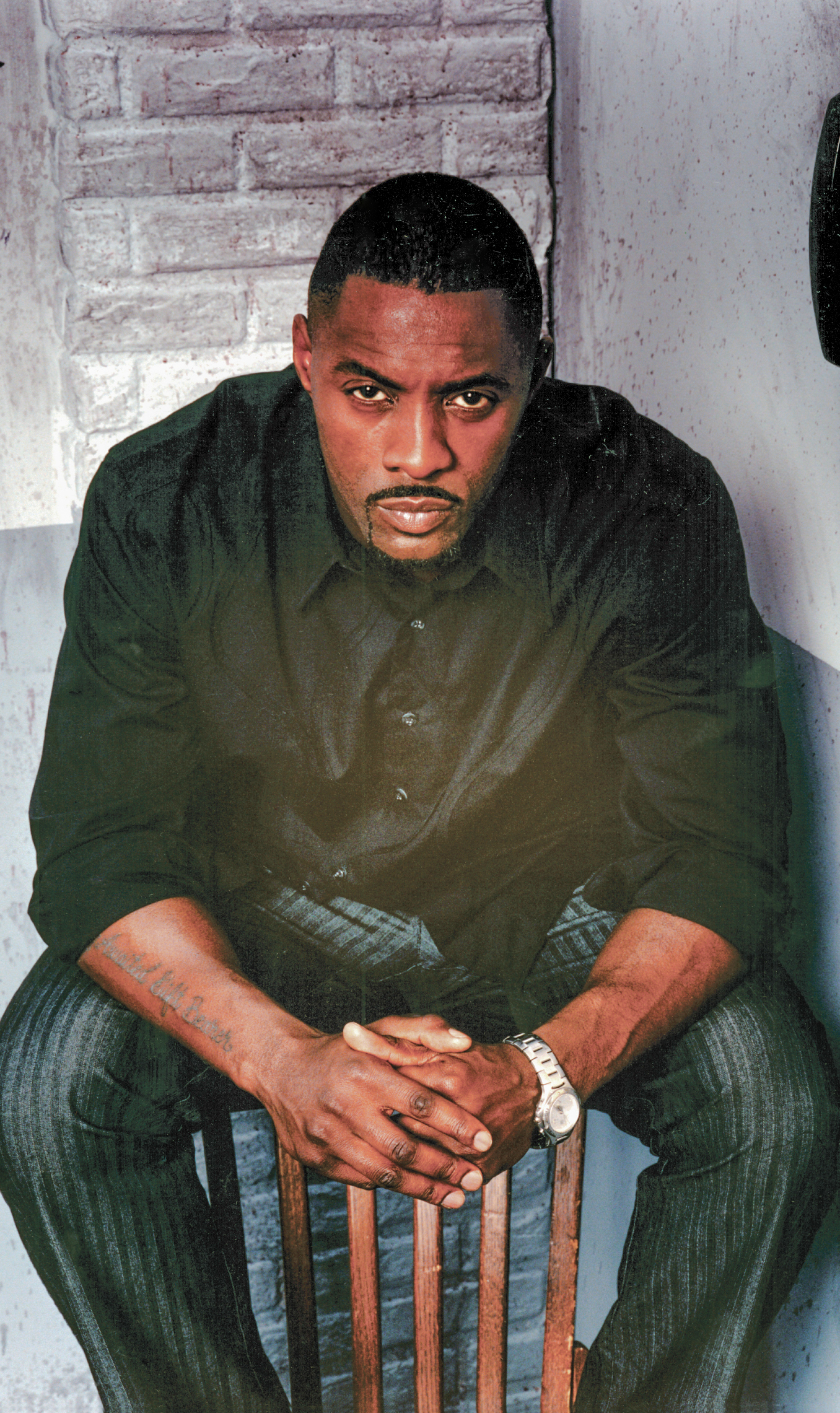 "Stringer Bell is a character that has been with me ever since I knew I wanted to be an actor."
—Idris Elba a.k.a. Stringer Bell
As Avon Barksdale's second in command Stringer Bell, brought to life by Idris Elba, quietly stalks within the shadows of Baltimore, always assured of his dominant position and able to influence opinions with a single glaring gaze. "The Stringer Bell type of character [is] a calculated brother that's about his business", Idris says while reflecting on his alter ego. As an actor in England, he knew that if he wanted to make a major impact in his field he'd need to hop on "the other side of the water here in America" where he feels the opportunity is much greater than anywhere else. With the Stringer Bell character becoming more prominent on the series this season, the limit seems to be the sky for Idris.
Aside from his acting Idris has worked steadily as a deejay, and plans to some day venture into the music business. "I have a small company…M media, and I'm developing some talent, [and] myself as a writer. I wouldn't call myself a rapper, but I could definitely perform. I think every actor can do that because you can transition yourself. My five-year game plan is to have a production company, which deals with music, film, television and media related [projects]. The music production thing, I'm very adamant that I'll work hard on it. I don't want any favors, I meet a bunch of rappers all the time, producers, music execs all the time and they can give you that golden handshake, [but] I don't really want anything till you've heard my CD. If it don't make your neck snap then there's no point, if your feeling it then cool."
We all have our opinions about actors who rap and vice versa and Idris feels that is mentality is something he can understand yet overcome at the same time. "There's a lot of rappers, actors, entertainers that do one thing then try and move into another thing and its kind of corny. There's a stigma attached to it, now I want to unattach that stigma and make my music legit, make anything I do outside of acting legit.
Idris's ambition and drive seems similar to Stringer Bell's in a sense of the focus and game plan you have to have to succeed. You'll be hearing more from Idris as his career develops.
"Come at the king you best not miss."
—Omar a.k.a. Michael K. Williams
One of the most impressive scenes from the entire first season comes in episode 5. Omar sets up to rob some local dealers of both product and profit in a well-organized sting. In broad daylight Omar, whistling 'a hunting we will go', calmly strolls down the block to his intended victim. All the while the local residents flee from his path as if he were the boogieman himself. This dynamic character so brilliantly played by Michael K. Williams is one of the most vivid on the series, a man who makes his living ripping off, and in some cases murdering, some of the most dangerous men in the city and who, to the surprise of many, is also gay. In describing the intricate characteristics of Omar, Michael says, "with a character like Omar, you can't go at him with [any] hang-ups. No insecurities, no quirks. I left all my inhibitions at home".
Michael's first film was the Late Tupac Shakur/Mickey Rourke vehicle Bullet. "Tupac had cast me in that playing the role of his little brother. That was the first thing I ever done . . . I [later] did an independent film called Mug Shot. That's what got the ball rolling like 'I should take this seriously'". He eventually landed a role in the Nick Cage movie Bringing Out the Dead.
"[I] use to dance with Missy, Mya, and Ginuwine. Mya was the last tour [I was on] in '98. After I booked Bringing Out the Dead I said, 'You know what Mike, you should fall back on the dancing thing [and] take this acting serious'."
The East Flatbush, Brooklyn native considers his role on The Wire to be his break out role. "Even though I been doing this since '95, this is the roll I'm most noticed for."
"The bad guys get in trouble. Some of them get away with it, just like in real life."
—Wood Harris a.k.a. Avon Barksdale
Avon Barksdale, as played by Wood Harris, is the motivation behind everyone's actions. He is the silent presence felt in every frame, in every shot. His influence saturates the urban crime drama with purpose and reason.
Already a veteran of the big screen –see: Remember the Titans, Hendrix, Paid in Full– Wood, who was born in Chicago and raised in Brooklyn, says playing the part of Avon really wasn't a stretch for him. "I really haven't done too much research on [Avon's character]. I just kind of grew up around them cats. I'm from the hood, I live in the hood now when I'm in NY". While the show tends to mirror real life, Wood insists the focus of the show is more entertainment than to raise social consciousness. However, with a show this graphic and powerful "messages are where you find them".
While Wood has a strong acting background (and resume), like his co-star, Alba, when asked about side projects his first response is "music". "[I'm] doing an album. I could sign with a label if I want, or I could go the independent route. I figured why not just go [independent] so I could have ultimate control over [my music]. I'm working for myself." Asked whether or not the public will receive Wood's musical contributions eagerly he coolly responds, "I'm pretty confident people will love it. It helps me to be characters like Jimmy Hendrix, people see me musically, or AZ, people see me in Hip Hop. The way I am in vogue it's not like you see me on One Life to Live. So it's easy for me to transition because of that. It would be different if you didn't see me in these roles. If you saw me as a cop all the time, it would be kind of hard for me to come out with a song."
As for cinematic work Wood is working on The Rucker, which will start shooting this summer in Harlem. "It's a great feeling to be in Harlem, Brooklyn, like New York in general. It's a lot of love. I can walk down the street and have the most love from the grimiest cat and get the same love from some white kid from upstate who loved Jimmy Hendrix, or football people who liked Remember the Titans. I take it all like a blessing and stay real humble about it".
SHOWDOWN IN BALTIMORE
"Worrying bout you be like wondering if the sun gonna come up. Ain't bout to wild out over it."
BARKSDALE & BELL
"You know the difference between me and you? I bleed red. You bleed green."
CASING THE JOINT
"I mostly go by…Lieutenant"
ASSASSINATION ATTEMPT
"I need you to hit somebody."
"Who we hittin'."