Bea Dixon, owner of The Honey Pot, a business that sells hygiene products to women, was recently the target of racist comments by white women who took exception to a Black history month advertising campaign, and thought the product was made just for black women.
Target, one of the companies that sell The Honey Pot products, sponsored the Black history month campaign called "Founders We Believe In" which featured Dixon and her company. In a voice-over during the spot, Dixon says, "The reason why it's so important for Honey Pot to do well is so the next black girl that comes up with a great idea – she can have a better opportunity," said Dixon during the 30-second spot. "That means a lot to me."
Some white women heavily criticized the ad and left negative and racist comments on customer review website, Trustpilot:
"I can't support a company in good faith that is openly racist about their customers."
"Black girls are empowered using this product… I guess whites girls aren't. I'll be letting Target know about this racist company."
"Can't believe Target would allow someone to describe something positive as "Dope"
Drugs are bad kids! Dope is bad! I will not be shopping at Target anymore!"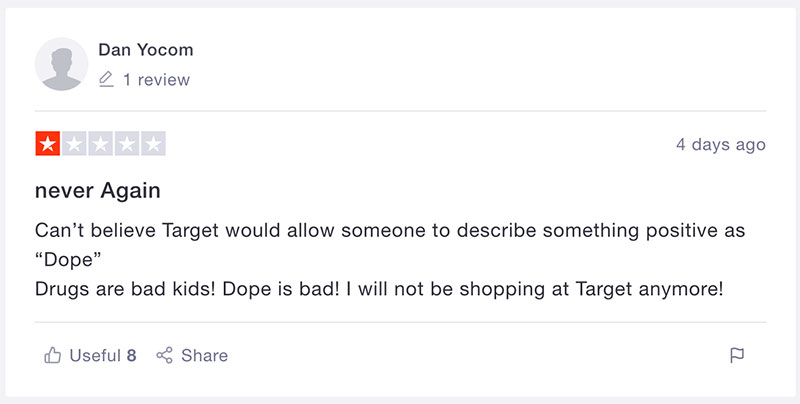 Despite the negative comments, Target says they still support Dixon and The Honey Pot, telling USA Today,
"We're aware of some negative comments about the campaign, which aren't in line with the overwhelmingly positive feedback we've received from guests who love and have been inspired by Bea's story."
Not all the feedback has been negative,
"Excellent products!!!! 5 STARS but the way this bogus forum is set up you can only see the Racist reviews first…I am a White Woman and I am utterly disgusted by White people on this thread. You're Insecurity and inferiority are so transparent it's ugly. You've always had the whole damn pie and start shaking in your raggedy boots when Black entrepreneurs own a successful business. You need to pipe down!"
Dixon launched the plant-based feminine hygiene company, selling vegan feminine washes, healthy feminine wipes and herbal menstrual liners and pads in 2014. She says she's seen an increase of 40% to 50% in sales since the racist negative comments, which is good news and it proves that racism loses again.
Head over to thehoneypot.co to support black business.