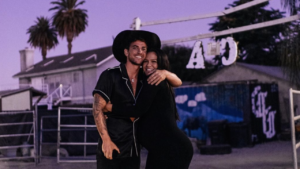 Cassie
and husband, Alex Fine, welcome baby girl, Frankie Fine, into the world. Baby Fine was born on December 6 weighing 8 lbs 4 oz.This is the first child for the singer and model.
Cassie, born Casandra Ventura, and Alex announced the pregnancy in June of 2019. She has since revealed in an interview, that her husband knew she was pregnant before she did.
"It was my husband that noticed I hadn't had my period in a while. When he said something to me, I was like, who pays attentions to that?"
Cassie's first and only album, Cassie, was released in 2006. She began dating music tycoon Sean 'Diddy' Combs in 2007 and they officially split in October 2018, ending a more than decade long relationship. Alex, who was hired by Diddy to be Cassie's personal trainer at one time, began dating Cassie in December 2018. The couple married in September of this year.