A Louisiana jury on Friday acquitted rapper Torence Hatch, better known as Lil Boosie of murder in the 2009...
The tail of William Balfour, who stood accused of killing 3 family members of singer/actress Jennifer Hudson, has ended...
Singer/actress Jennifer Hudson and her sister Julia took to the stand yesterday to testify against William Balfour, their former...
Adidja Palmer, better known as to fans of Dancehall Reggae as Vybez Kartel, has been hit with murder and...
Anthony Tyrone Terrell (l) gets two consecutive life sentences for the murders of his mother, Joy Deleston (c), and...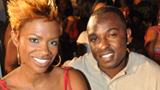 Police have made an arrest in the death of Ashley "AJ" Jewell, pictured above in an undated photo with...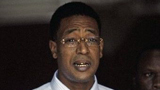 Corey 'C-Murder' Miller was convicted on Tuesday (Aug. 11) for the 2nd time in the murder of 16-year-old Steve...
C-Murder The retrial of rapper C-Murder on murder charges is not looking good for the defense. Since the start...
Arturo Gatti Brazilian police have arrested Amanda Rodrigues for the murder of her husband, boxing legend, Arturo Gatti. Gatti's...
Police have ruled Steve McNair's death a homicide, pictured here during training camp for the Baltimore Ravens in 2006,...
Hosea Thomas (l), sentenced to 66 yrs and his brother Padron (r) gets 17 yrs for highway killing A...
Rapper Tru Life was arrested for the murder of one man and the attempted murder of another during a...
Former rapper-turned-professional prisoner Corey 'C-Murder' Miller has come to an understanding with prosecutors in his attempted murder case. On...
Jason Williams' storybook life continues to spiral out of control as the once admired basketball star is now on...
The attorney representing C-Murder, Corey Miller, in his upcoming murder retrial is quitting the case amid charges that the...
Jamaican police arrested reggae singer Luciano on Monday (Mar. 30) after a man named Andrew Senior, a suspect sort...
Corey 'C-Murder' Miller was removed from his grandmother's home in Kenner, Louisiana and taken to the Jefferson Parish Correctional...
One person remains in critical condition after being shot early Saturday (Dec. 27) after a nightclub performance by rapper...
Chicago police have officially charged Jennifer Hudson's estranged brother-in-law, William Balfour, yesterday (Dec. 1) with the October 24 murders...
Chicago police searching for Jennifer Hudson's missing 7-year-old nephew have located the SUV that has been at the center...