Members of The Florida Federation of Republican Women are boycotting the popular daytime talk show, "The Oprah Winfrey Show,"...
Forbes Magazine has released a list of talk show (broadcast TV and radio) top earners and the queen of...
Oprah Winfrey has pulled the plug on her reality show, Oprah's Big Give. The Brewster's Millions-style reality show, which...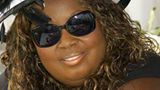 Star Jones pre- and post-surgery. Recently separated Star Jones (Reynolds) has fired back at Barbara Walters after the veteran...